Racquetball Bag Buying Guide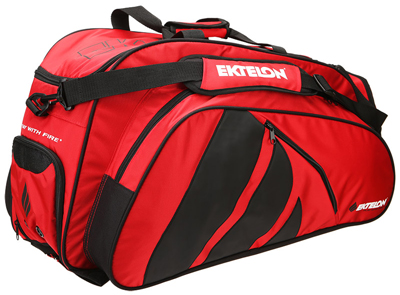 When deciding on which racquetball bag to buy, there are several criteria you might look for to help you decide. Durability is important so your chosen bag can last you for a long time. Different materials are more durable than others and are also more environmentally friendly (Wilson touts their bags in particular for being more environmentally friendly), so it is something to consider. Overall size of the bag – the bigger the bag, the easier it is to arrange the numerous things you need to be carrying with you to play racquetball. However, the downside of bigger bags is that they are typically more expensive and they are harder to store in gym lockers. When selecting from different larger bags, pay attention to how comfortable they are to carry (padded straps) and how many different compartments they have, so you have separate spaces for your wet clothes, shoes, racquets, eye wear, keys and wallet and so forth.
If you are not interested in spending a long time deciding between different bags and want a recommendation, then I would highly recommend Ektelon Team Tour Bag (pictured on the left). I wrote a detailed review of this bag, if you want to check it out.
Here is a list of different kinds of bags that are on the market right now and their pros and cons. I am partial to Ektelon bags, so I will use their line up to demonstrate this. But most other manufacturers have comparable types of bags and I will be adding reviews for different bags I have either personally owned or had a chance to check out from my partners and hear their opinions.
If you already happen to have a sports backpack you can use to carry all other stuff, but it's not big enough to accommodate a racquetball racquet, then buying a Racquet Cover
is an option. The downside of this approach is that you have to carry two separate things which is just not very comfortable. 
Next step up is a Tote Bag
. A much better option than just a racquet cover, since you can generally fit other smaller accessories, such as balls, sweat bands, gloves, keys. One major downside of this option is that you can fit shoes inside of a tote bag. It is good racquetball etiquette to have a separate pair of shoes just for the inside court and not to walk into a court in your street shoes, so I would recommend to go with something bigger. Not only that, but not having a separate compartment for you wet clothes (shirts, gloves, sweatbands) after the game is a major downside.
A racquetball backpack is finally the first type of bag that should allow you to carry everything you need. It typically features a separate compartment for your racquet, though you can only fit one. A few separate compartments for your balls, a water bottle, keys. And finally the main compartment for you to carry your shoes and the rest of your stuff. Some of them, like this Ektelon Team Backpack Racquetball Bag, even feature a laptop compartment. The advantage of these backpacks is that they are comfortable to carry, they fit nicely into gym lockers, and they are typically a little cheaper than larger bags. The disadvantage is that you can only fit one racquet (and you really should always have at least two) and the rest of the stuff is going to be pretty packed together, so it's harder to find smaller items when the bag is full.
A large racquetball bag, typically named Club or Team
by the manufacturers, is what I would personally recommend to majority of players. It has a separate large compartment for racquets that can accommodate at least two racquets and sometimes more (and some of them even have two of those compartments). Very nice padded straps for ease of carrying. A separate breathable compartment for your wet clothes or shoes. An outside line where you can hang a lot of gloves so they can dry easier.  And plenty of little pockets for all the smaller things, like your eye wear, ball containers, keys and wallet, water bottles. The only downsides of such a bag is that sometimes it is tough to fit into a gym locker due to its large size. And they tend to be kind of pricey. But it's a worthy investment in my opinion because once you start playing, it's guaranteed you will accumulate a lot of racquetball stuff that you would like to have on you whenever  you are playing. You can check out my in-depth review of Ektelon Team Tour Bag
(shown on the left).
Finally, some manufacturers make very large bags on wheels. These bags are really geared towards touring professionals who play tournaments frequently and must often travel with all their gear. They feature specially protected compartments that can fit more than half a dozen racquets and ensure they don't get damaged during air travel. There is plenty of space for your clothes, laptop, shoes, toiletries, and anything else a pro might need during their travels. Naturally, the bag can get pretty heavy fast, so that's where the wheels and the handle come in. But unless you are one of these touring pros, I think such a bag is a total overkill for most players and I would recommend you save your money and go for a smaller Club/Team bag.